Introduction
The global outbreak of Covid-19 has affected every part of human lives, including impacting the physical world in which we live. This is primarily due to the measures that have been taken around the world to control the spread of the virus and the consequent slowdown of economic activities, which have had significant effects on the environment.
The European Environment Agency (EEA) have reported that the restrictions imposed to fight Covid-19 have provided some short-term positive impacts on Europe's environment, including temporary improvements in air quality, lower greenhouse gas emissions and lower levels of noise pollution. However, the report stresses that there have also been negative consequences such as increased use of single-use plastics, and that ways out of the pandemic should focus on achieving long-term environmental benefits.
In this article we explore the main positive and negative effects of the covid-19 pandemic on the environment, before taking a look at the ways gas sensing can play a part in protecting our precious environment.
What have been the Positive Environmental Impacts of Lockdown?
Research has revealed that movement restrictions and the significant slowdown of social and economic activities has had many positive environmental impacts. These include significantly improving air quality in different cities across the world, reducing Greenhouse Gas emissions, lessening water pollution and noise, and reducing the pressure on tourist destinations, which may have caused the restoration of ecological systems.
This is demonstrated by the fact that in the northern hemisphere last spring, when restrictions were at their strictest, the human footprint decreased to a level that hasn't been seen in decades. This was because flights halved, road traffic in the UK fell by more than 70% and industrial emissions in China, which is the world's biggest source of carbon, were down 18% between early February and mid-March. Furthermore, car use in the United States also declined by 40%, which is usually a very high contributor.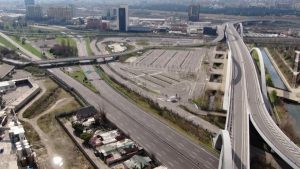 Image Source: TheGuardian.com
Benefits were also seen in the global south, where rhino poaching declined in Tanzania due to disruption of supply chains and restrictions on cross-border movements. However, activities such as bushmeat hunting, illegal firewood collection and incursions into protected areas all increased in India, Nepal and Kenya because local communities lost tourist income and had to find other ways to provide for their families₁.
What have been the Negative Effects on the Environment due to The Pandemic?
The environmental gains were short-lived as once the strict lockdown eased, traffic and air pollution surged back to normal levels. In a survey of 49 British towns₂ and cities, 80% had contamination levels that were now the same or worse than before the pandemic. Unfortunately, there have also been additional negative effects on the environment, such as an increase in medical waste and the haphazard use and disposal of disinfectants, masks, gloves, and untreated waste.
Since the initial outbreak of Covid-19, medical waste generation has increased globally, which poses a major threat to public health and the environment because it causes air, water and soil pollution. Furthermore, quarantine policies have led to a major increase in demand for online shopping and home delivery which has resulted in a significant increase in household waste in the form of shipped package materials.
In Brazil, deforestation has hit a 23-year high as traditional guardians of the Amazon have been weakened with the Xavante and Yanomami indigenous groups being strongly impacted by the disease, and lockdown keeping forest rangers at home. Meanwhile, land grabbers, fire-starters and illegal miners have been busier than ever.
What has the Effect of the Covid-19 Pandemic on Gas Emissions been?
The COVID crisis has had a direct impact on greenhouse gas (GHG) emissions at both global and EU levels.
Vehicles and aviation are both key contributors of emissions and contribute to almost 72% and 11% of the transport sector's greenhouse gas emissions respectively. The demand for passenger transport has declined as a result of international travel restrictions and reduced commuting, tourism and business travel. The closure of the transportation industry has therefore brought a sudden drop of greenhouse gases emissions, with levels of air pollution in New York reduced by nearly 50% and nearly a 50% reduction of Nitrous Oxide (N₂O) and Carbon Monoxide (CO) due to the shutdown of heavy industries in China. Furthermore, The European Environmental Agency (EEA) have predicted that because of lockdown, nitrogen dioxide (NO₂) emissions have dropped from 30-60% in many European cities including Barcelona, Madrid, Milan, Rome and Paris. NO2 is emitted from the burning of fossil fuels, 80% of which comes from motor vehicle exhaust, and causes acid rain with the interaction of O2 and H2O, and several respiratory diseases.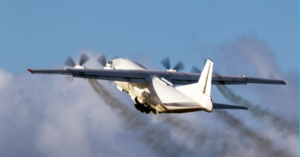 These reductions have had health benefits, which have caused a little relief from the rising Covid-19 death tolls, as there were at least 11,000 fewer fatalities from air pollution in Europe. Breathing cleaner air also meant 6,000 fewer children developing asthma, 1,900 avoiding A&E visits and 600 fewer being born preterm₃.
There is no denying that global carbon emissions have fallen steeply during lockdown, as the months of empty roads and skies and slow economic activity reduced global greenhouse gas emissions by an estimated 7%, which is the sharpest annual fall ever recorded. However, while these short-term reductions in emissions may make current targets seem achievable, with life slowly returning to normal any longer-term goals will require political decisions that prioritise recovery measures from the pandemic which contribute significantly to climate change mitigation.
Air pollution levels during the lockdown period can therefore provide us with valuable evidence of how air quality might change if greenhouse gas sources are reduced due to more permanent strategies, for example as part of the UK's transition to net zero greenhouse gas emissions.
How can Gas Sensing have Positive Environmental Impacts?
Sensors can play a huge part in the protection of the environment as they often play a vital role in the monitoring and reduction of harmful activities. At Edinburgh Sensors, we produce bespoke gas sensing technology which can be used across a wide range of applications, many of which can be used to mitigate environmental concerns. This article presents just three of these applications; the monitoring of greenhouse gas emissions, the monitoring of methane using an infrared sensor and the detection of gases using a UAV drone.
Monitoring of Greenhouse Gas emissions: https://edinburghsensors.com/news-and-events/measuring-greenhouse-gas-emissions/
Edinburgh Sensors Gascard NG provides high quality, accurate and reliable measurements of CO, CO2 and CH4. To find out how we can assist you with the measurement of greenhouse gas emissions, simply contact us.
Using an Infrared Sensor for reliable Methane monitoring: https://edinburghsensors.com/news-and-events/infrared-sensor-gas-monitoring/
Edinburgh Sensors' Gascard NG is used for methane detection in a range of research, industrial, and environmental applications including pollution monitoring, agricultural research, chemical processes and many more.
Using a UAV drone attached to a gas sensor to measure harmful gases: https://edinburghsensors.com/news-and-events/uav-drone-methane-monitoring/
From monitoring global warming to tracking the spread of pollution, there are many reasons to use a drone in order to monitor carbon dioxide, methane and other hydrocarbon gas concentrations in remote or dangerous locations.
What Gas Sensors does Edinburgh Sensors have to offer for Environmental Protection?
One of the most sensitive approaches for the detection of environmentally harmful gases such as carbon dioxide and methane is the use of infra-red spectroscopy. Both gases absorb infra-red radiation very strongly and have unique absorption patterns or spectral fingerprints that can be used for their subsequent identification. Infra-red detection can be used for both qualitative and quantitative identification and therefore can be used to detect very low concentrations of such gases or small changes in their concentration.
Edinburgh Sensors have over 30 years of expertise in the development of non-dispersive infra-red sensor technologies and offer a range of production options suitable for tracking greenhouse gas emissions on agricultural sites. Our products have been field-tested and are very successful at tracking methane production in a working environment.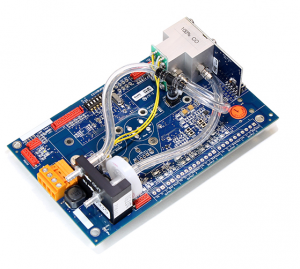 Our Gascard NG Infrared gas sensor is the perfect solution for monitoring CO₂. The Gascard NG includes real-time temperature and atmospheric pressure correction via on-board sensors and has the flexibility to incorporate additional gas detection technologies. It has onboard true RS232 communications along with the option of TCP/IP communications protocol. Key features of this reliable gas detection system include:
On-board barometric pressure correction in the range of 800mbar to 1150mbar
Extensive temperature compensation
Minimum operating voltage 7V and wide operating voltage range (7V to 30V)
True RS232 communications for control and data logging. Optional on-board LAN support.
Find out more
If you have enjoyed reading this article about the effect of the covid-19 pandemic on the environment, why not join Edinburgh Sensors on social media and sign up to our infrequent newsletter to be the first to know about our latest products, research and developments.
Or if you have just as many concerns about the environment as we do and are interested in using gas sensing technology to play a part in the reduction of environmental harm, we encourage you to get in touch with a member of our team today as we would be delighted to assist you.
References