We were excited to see that our customers, Petronas Carigali, have recently had their work on Gas Lift Optimisation (GLOP) published in One Petro.
Gas Lift Optimisation Abstract
Field B, located offshore in Malaysia relies on gas lift optimisation due to the high water cut behaviour of the reservoir paired with low-medium reservoir pressure. Traditional techniques to measure the enhancement put a limit on the number of gas lift troubleshooting activities due to the low man-hour availability.  The recent oil price downturn aggravates this limitation resulting in the need for an innovative approach to maximise oil recovery.
What is Gas Lift Optimisation (GLOP)?
Gas lift uses the technique of raising a fluid such as oil by introducing bubbles of compressed air into the outlet tube, reducing the hydrostatic pressure in the outlet tube vs. the hydrostatic pressure at the inlet side of the tube.
In the petroleum industry the process involves injecting gas through a tube casing and the injected gas aerates the fluid to reduce its density. The pressure is then able to lift the oil column and forces the fluid out of the wellbore.
The paper discusses the challenges that Field B faced when implementing the Gas Lift Optimisation, an overview on the technology used for the CO₂ tracer, the full cycle process of the CO₂ tracer campaign, and the results of the campaign. Read the full article.
The Gascard NG for Gas Lift Optimisation (GLOP)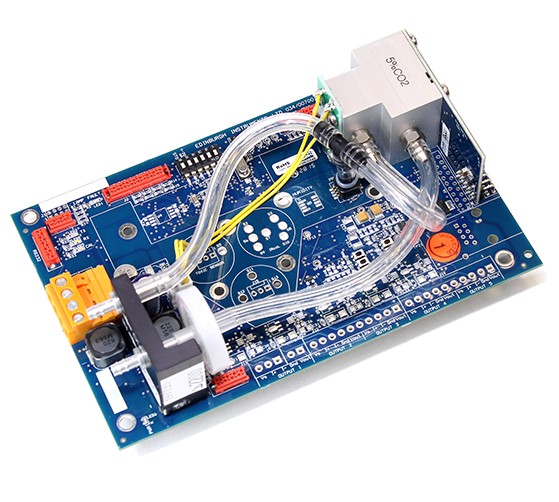 Edinburgh Sensors' Gascard NG was used for the CO₂ tracer application in this research. The Gascard NG infrared gas sensor is designed for ease of integration with a wide range of gas detection systems that require high quality, accurate and reliable measurement of CO, CO₂, and CH₄ gas concentrations.
For more information on the Gascard NG or our other gas detection solutions, contact a member of our team at sales@edinst.com.
Stay in Touch
If you have enjoyed reading about how our products are helping customers all over the world and want to be the first to see all the latest news and product information from Edinburgh Sensors, then sign-up to our infrequent newsletter via the sign-up button below, and follow us on social media.