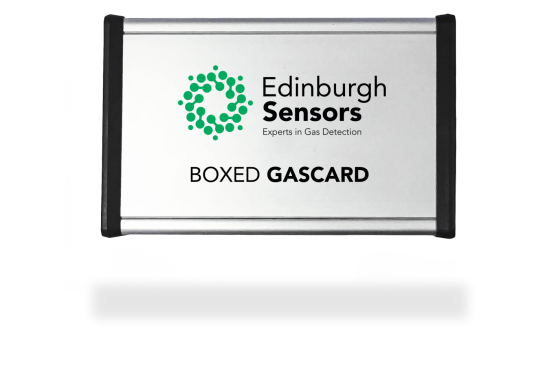 The Boxed Gascard® provides users with access to the Gascard NG range of CO2 detection products in a convenient and robust desktop unit.
Requiring only a suitable power supply and sample gas, the Boxed Gascard® provides fast and reliable CO2 concentration data over a wide range of barometric pressures and environmental temperatures. It brings the accuracy and reliability of the Gascard NG gas sensors to the convenience of a desktop instrument. The Boxed Gascard® is suitable for CO2 monitoring in a diverse range of applications from anaerobic digestion monitoring to plant physiology, where the carbon dioxide concentration in air-like atmospheres needs to be measured from ppm to tens of percent concentration.
The bit-switch controlled 4-20mA or 0-20mA output is ideally suited for interfacing with most data loggers.  Alternatively, the optional RS232 interface and NG Logger software may be used to log the concentration information onto a PC (with a serial to USB converter) or suitable tablet computer.
The new aluminium enclosure provides an elegant and robust solution to housing the Gascard NG. This also provides a versatile point sensor that may be used in many applications where a sensor is needed to remotely monitor carbon dioxide concentrations.
The heart of the Boxed Gascard® is the Gascard NG which uses a pseudo dual beam NDIR measurement system for increased stability and the reduction of long term drift with minimum optical complexity and no moving parts.
Contact Us Today
Key Features
Modern electronics platform with the increased power and versatility of fast microprocessors

Wide operating voltage range (7 V - 30 V)

True RS232 communications for control and data

On-board Barometric Pressure Correction in the range 800 mbar - 1150 mbar

Field Replaceable IR Source

Extensive Temperature compensation
Brochure Downloads